Decorating at Traders World

The decorating projects at Traders World continue to bring interesting and attractive new sights to shoppers. To see them all, be sure to look around in every direction, both inside and out.

The decorative exterior facades at the top of some buildings add to the festive atmosphere of the Traders World experience. Just glance up to see these new additions.
Wagon wheels, made by the Amish in Northern Ohio, have recently been installed above the aisles throughout Traders World. The craftsmanship used to fashion them is worth noticing, as they were honed with draw-knives. Logging chains hold them securely in place.
A tinsmith made the lamps that are hung just below each of the wagon wheels. They hold colored lights that add warmth to the old time atmosphere.
The Traders World annual Vehicle Giveaway was held at Christmas. This year's prize was a brand new Toyota truck with an extended cab. It also has a bedliner and special customizing.
An additional ATM machine is expected to be installed in the South Restaurant area. It should help to reduce the lines at the first machine and offer greater convenience to shoppers.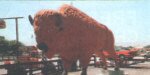 Visitors who arrive through Gates One and Two can't miss the Buffalo at the main entrance. For twenty-five years this wonderful creature lived on top of a restaurant in Indiana. He was recently rescued and moved to his happy new home at Traders World.
Keeping The Community In Mind Traders World Offers a Test of Skill

When approached by Monroe's Police Chief, Ernie Howard, to assist the police department with its driver's training course, Traders World (TW) responded with an "affirmative." Now, during training weeks, TW's parking lot is transformed into a test of skill.

TW was the perfect location to hold this driving course because the market is only open on weekends, and its large parking lot is unused during the week. The lot provides training instructors plenty of room to simulate what officers may encounter on the job.

By insisting all officers take and pass the rigorous driving course, the police department ensures its officers have the highest of skills and training to offer the community. As well, the courses help save taxpayer dollars, because having a certified force means lower insurance rates.

Because of Monroe's success this past summer with the TW training course, Middletown's police department put its skills to the test by bringing officers to TW for training in the fall.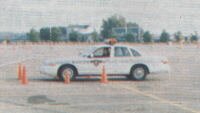 TW is very pleased to be able to offer such a service to the community and police forces. The market is also very proud of the fact that there's been feedback from officials regarding the TW course as the best training facility in the State of Ohio!