Welcome To
Crabapple Cottage Wedding Shoppe
Unique and Beautiful Wedding Prism Lamp
You are cordially invited to visit Crabapple Cottage, specialists in wedding accessories and custom floral designs. We pride ourselves in bringing to you high quality wedding merchandise at a fraction of the cost of other wedding shops. See our extensive line of guest books, pens, wine glasses, cake knives, hats, wedding flowers, and other musts for your special day.

Wedding Prism Lamp with Cake Display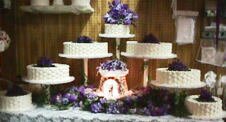 Crabapple Cottage's own unique design. (Patent Pending) This beautiful lamp can be used in the cake replacing the fountain, in a centerpiece on the Bridal Table, or on the gift table. The lamps are totally customized for each wedding by painting the dresses on the dolls, their hair color, and flowers to match your wedding scheme.
The lamp contains the bride and groom under an archway of flowers. Any number of variations are available, including bridesmaids, groomsmen, ring bearer and flower girl.
Customized Wedding Accessories
"Everything you want at the price you can afford."
Aisle Runners
Archways
Anniversary Gifts
Baseball Caps