Welcome To
Elaine's Custom Jewelry
You will find all your treasures at Elaine's Custom Jewelry!
At Elaine's Custom Jewelry we custom pick a large selection of Sterling Silver rings, bracelets, chains and earrings. We have in stock all the popular styles of chain in thin to heavy sizes.
Our complete line of Copper Jewelry from two American sources, Wheeler Manufacturing and Sunburst, includes rings, bracelets, earrings and necklaces. We also carry a large selection of Magnetic Jewelry in gold or silver finishes and solid Copper.
Black Hills Gold from South Dakota, along with Sterling Silver with Gold completes our jewelry selection.
Besides jewelry, we maintain a large inventory of Framed Prints, including signed prints. Besides conventional prints, we have prints done on 3-D foil.
Looking for collectable Lighthouse Miniatures? We carry the entire collection form an Eastern U.S. Company. Also included is a large selection of nightlights, suncatchers and candle charms finished in 24 carat layered gold by a Virginia craftsman.
Silver Rings

Large Selection of Sterling Silver rings, everything from the thin wire to the wide cuff ring. A ring for every finger and your thumb too. Sizes 1 to 15 - We have it all!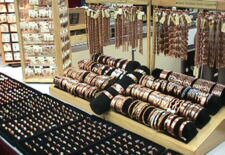 Copper

Our Copper Jewelry is 99.9% pure and lacquer coated. The rings range from small stone sets to the heavier bands in sizes 2 to 13 including ½ sizes. Choose from cuff bracelets as well as link chains. Necklaces to match most chain styles with a large selection of copper earring