Welcome To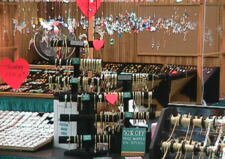 S & J Jewelry
S & J Jewelry Offers Only The Finest Quality In Gold and Austrian Crystal
Fine Jewelry at Fine Prices!
And, you have our
GUARANTEED Lifetime Replacement
When you present your original guarantee slip!

Gold Chains
You need to go no farther than S & J Jewelry to find the quality of gold layered chains that are the finest on the market today. You have a choice of 54 different classic chains. Quality layering of metals offers reliability against tarnishing and provides exceptional wearing capabilities. You choose the length of chain you want for your jewelry and we will add the clasp for you.
Gold Bracelets and Necklaces

The craftsmanship of the jewelry is exquisite. You will find gold chains inset with crystal, birthstones, pearls or gold beautifully etched with the diamon