Welcome To

Specialty Plastic Fabrications
Clear Case of Ingenuity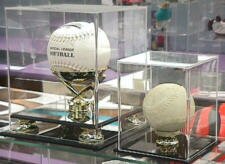 There is an old saying, "need is the mother of invention," and so is the case Specialty Plastic Fabrications (SPF). Located in booths 2-8 of building 1-A Traders World, SPF designs and builds custom display cases to fit individual needs.

All cases are wall mountable, free standing and stackable. Options for backs are acrylic mirror, or colors white and black.
| | |
| --- | --- |
| Sports Cases | "We make just about anything anybody wants out of acrylic." We customize cases exactly to customer specs. The transparent acrylic cases allow items to be clearly displayed at a home or business, while at the same time protecting the valued possession from dust and other elements. |
Available in any size and shape, shoppers can either browse the selection SPF has readily available or provide dimensions and have a case made-to-order. There are cases for football helmets, footballs, other game balls, collector cars, cereal boxes, Holiday Barbies (singles or multiples) and larger collector dolls. You name it, we can make a case for it.
One of the "HOTTEST" cases in demand are for Beanie Babies. " We make those in about a dozen varieties and sizes, up to 7 feet long, and holding up to 250 Beanie Babies. Those and Barbie cases are difficult to keep on hand because it seems that as soon as we bring these cases into the shop, customers are buying them and carrying them back out.
| | |
| --- | --- |
| With dealers all over the nation, and demand for cases constantly increasing, SPF has recently moved its manufacturing operation. We just moved into a 12,000 square foot factory, which is about 5 times bigger than what we've been using. | NASCAR Cases |
After less than one year in business, to what does Brickner credit his business' popularity? What we do is original... it's unique. We're simply providing something that people need.
See our Home Site for more information.
See Us this Weekend at Traders World
Building 1A
Contact Us
Specialty Plastic Fabrications
1600 Irma Ave.
Hamilton, OH 45011
Phone: 513-856-9475
Toll Free: 800-582-9038

You Order, We'll Ship to all 50 States
We Accept Money Orders, Checks and


This Site Hosted and Maintained by SBA SERVICES