Welcome To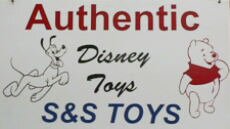 S & S Toys
We carry all your Disney and Looney Toons Favorites.
You'll find the best in toys, clothes and baby apparel and all are authentic and original. Great Selection - Disney, Looney Toons, Barbie and much, much more!. Call today to order your favorite!
Stuffed Disney Pals
Who can resist these lovable characters? Pooh, Tigger, Rabbit, Piglet Eyore. These pals are originals, and at only the best prices.
Pooh & Tigger
These will be your child's favorite friends! Aren't they wonderful?
$35.00 plus tax & shipping.
Disney Shirts and Outfits
Your child will look so adorable in an authentic Disney Shirt or Outfit to match your little one's favorite friend.
Outfits are only $15.00 plus tax and shipping

Rugrats
Yes we carry Rugrats!
These toys are a big hit with all the kids. You can find any of these authentic toys for only $5.00 plus tax and shipping.
See Us this Weekend at Traders World
Building 10
Contact Us
S & S Toys
8755 Forney Road
New Lebanon OH 45345
Phone: 937-835-8755
You Order, We'll Ship
We Accept Money Orders, Checks
This Site Hosted and Maintained by SBA SERVICES