Welcome To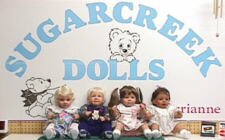 Sugarcreek Dolls
Everyone Loves A Baby Doll!

Keep the child in your life young forever with a Sugarcreek Doll. Bring us a picture of your child and we will help you match facial expressions and features to capture that precious little person. You can have the fun of building your doll to your child's likeness, or have us build it for you. It's fun! Just four easy steps and your doll will be finished.
Step One

Choose the facial feature and expression, eye color, hairstyle and color to create a look-a-like doll.
Step Two

Stuff the body and attach the body parts. The body is made of durable cotton and soft stuffing. The legs, arms and head are of vinyl.
Step Three

Apply glue to the head and place the wig. Wigs come in assorted colors and styles. There is always one that will match the hairstyle you want.