Welcome To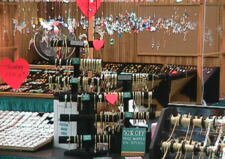 S & J Jewelry ~ Page 2
S & J Jewelry Offers Only The Finest Quality In Gold and Austrian Crystal


Look at this beautiful Austrian Crystal!
The hanging prisms cast beautiful rainbows to fill your home with beauty wherever you look. Each shape reflects different shades and colors to bring a feeling of joy throughout.

We complement our Austrian crystal with select pieces of German crystal jewelry, hanging metal ornaments and hand blown glass. Our Austrian crystals are first quality lead crystal by Swarovski and Company of Wattens, Austria, the world's leader in quality jewelry crystal and prisms.
Crystal Earrings

Crystal has always been a favorite to adorn gold jewelry. Delicate in beauty it will reflect different colors depending on the color of the background on which it is placed. So your lovely crystal and gold jewelry will always accent any and everything you wear.
So take it with you, take it anywhere, and enjoy it for a lifetime!
See Us this Weekend at Traders World
Building 6 & 10
Contact Us
S & J Jewelry
Phone: 419-634-9392

You Order, We'll Ship
We Accept Money Orders, Checks and

DISCLAIMER: All information contained herein is provided to fleamarkets.com by the vendor. Fleamarkets.com and Traders World accepts no liability for errors or inaccuracy of information.
This Site Hosted and Maintained by FleaMarkets.com