Welcome To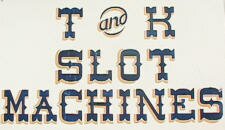 T & K Slot Machines
Phone: 513-727-1270 or 513-424-4900
We carry only the finest in slot machines. They all have a 90-day guarantee and a 50/50 warrantee for as long as you own it. Call today for details and shipping arrangements.
Stars & Stripes
This collector machine can be yours to enjoy for only $995.00
Diamonds & Sevens
You'll enjoy this machine!
It looks florescent in a dark room
Only $995.00
Both machines take quarters and can be set up to take other coins.
Vegas Girl
This collector machine can be yours to enjoy for
only $625.00
Red, White & Blue
If you are looking for a great machine, this is it!
Have this machine in your home for friends and family to enjoy for only $599.00.
Call today to see how soon we can get it to you!
Cranky Condor
This "Cranky Condor" is the perfect addition to your game room. Your place will be where friends and neighbors will congregate to enjoy the fun. We will get this highly sought after machine to you for
only $395.00
We have many more to slot machines to choose from. If you have a particular machine in mind and do not see it pictured, call us today and ask about our wide inventory selection.
See Us this Weekend at Traders World
Building 2, Booth 20
Contact Us
T & K Slot Machines
Phone: 513-727-1270 or 513-424-4900

You Order, We'll Ship
We Accept Money Orders and Checks
DISCLAIMER: All information contained herein is provided to fleamarkets.com by the vendor. Fleamarkets.com and Traders World accepts no liability for errors or inaccuracy of information.
This Site Hosted and Maintained by FleaMarkets.com