Welcome To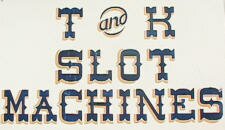 T & K Slot Machines
Phone: 513-727-1270 or 513-424-4900
More Slots to Choose From
The Double Diamond
is a Vegas Favorite
Fun for friends and family
This is the elite of all slot machines and it can be yours for
Only $1,495.00
Draw Poker
Everyone loves a good game of poker
and this machine is the classic favorite.
Take it home for
Only $1,495.00
CC Angel
You will love this lucky, lucky machine.
A great way to entertain company and the kids will love it too.
Only $425.00.
50's Cafe
This Fun Machine will take you Back to the 50's.
See how many times it pays off for you!
Only $395.00
Red, White and Blue
An American Tribute to the Slot Machine.
This machine is both fun and beautiful and will the be perfect addition for your recreation area.
Only $1,495.00
See Us this Weekend at Traders World
Building 2, Booth 20
Contact Us
T & K Slot Machines
Phone: 513-727-1270 or 513-424-4900

You Order, We'll Ship
We Accept Money Orders and Checks
DISCLAIMER: All information contained herein is provided to fleamarkets.com by the vendor. Fleamarkets.com and Traders World accepts no liability for errors or inaccuracy of information.
This Site Hosted and Maintained by FleaMarkets.com